In pre-Covid times, building an online academic presence was becoming more important by the year. Blogging and social media are great (and usually free) ways to gain exposure for yourself, your research output, or hopefully both. Sharing your research online has become even more important now that travelling domestically and internationally for conferences, lab visits and field work (all great networking opportunities) is difficult, if not impossible.
There are an abundance of online resources (ranging from blog posts and anecdotes, to peer reviewed studies) about using social media as a researcher, discovering why academics blog, and analysing whether sharing research articles on Twitter gets you more reads, citations, or both. But sometimes a personalised advice can be hard to find. After all, we all have different ideas regarding how much information we want to share about ourselves online, or about our online personas. We're all positioned on a sliding scale when it comes to wanting to appear approachable, but not ditsy, or professional, but not stuffy.
Knowing which online tools are best for your personality and communication style, and how to use them, can feel like a daunting task, but there is help at hand for ANU students and ECRs in the form of Get #SoMe, Social Media for Researchers, a training course run by @thesiswhisperer and @VFSYES from the ANU Researcher Development. And it's been around for a while now!
I participated in 2020 and this blog post would not exist without it! As well as learning about blogging, using social media platforms effectively and building a personal brand, getting to spending time each week with the super supportive Inger and V, and meeting students and ECRs I otherwise wouldn't have come across was inspiring and eye opening.
I don't know how to write this with sounding like a terrible TV salesperson… but don't just take my word for it – read what other participants have to say below!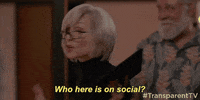 Two months after starting my PhD at ANU Research School of Biology last February, I managed to get myself stuck in the Great Melbourne Lockdown fiasco of 2020. I considered myself lucky for I had only started and could focus on reading up on the literature as well as cleaning up my large bird species database for future analysis, but I was missing being a part of the greater ANU community. Following that, I engaged myself into the virtual activities in our division when they started up, as well as workshops run by the library and the Researcher's Development team – and found myself expressing my interest to the #SoMe program when it was advertised. The premise of #SoMe was exciting, and for someone who really enjoyed their research I was keen on learning more skills and tools to share this love with more people! Inger, V, and the rest of the #SoMe team and cohort went above and beyond my expectations. Not only were the workshops practical and useful, it makes things less daunting when learning the ins and outs of social media together with like minded people. And although I'm currently still mostly a lurker in Twitter (@goaudreymp), the #SoMe program has definitely build my confidence, as well as given me ideas to pursue some possible side projects related to research outreach (and helped provide me some much needed socialisation during lockdown!).

Audrey Prasetya, PhD Candidate, @goaudreymp
As an engineer, my favourite courses usually include writing code or using mathematical formulas to solve problems. With #SoMe there was none of that; no math and no code, but that didn't stop it from making it to the TOP of my "courses every researcher should do" list. It is simply one of those "I wish they taught that in school" kind of courses. I admit I was sceptical at first, how can anyone teach this? it is so soft skilled and individual. But then, Inger and V came into my life and I realized "that's how you do it". I quickly figured out that it was all about coming up with the formula for creating a digital persona that works for #Me. There is no, "one-size-fits all" solution. It took practice, dedication, experimentation and a lot of courage. The group activities were amazing at building confidence. Seeing, first hand, that no one is born with a Twitter account and a hashtag wand made me realize, I can do this. I found myself eagerly waiting for class every week, mostly for the content but also to interact with this amazing community of novice Twitterers. I finished the course wanting more! It gave me a map and a compass and now it is up to me to navigate my way to success.

Itzik is a visiting research fellow in the College of Engineering and Computer Science, at the School of Computing at ANU and a research fellow at Technion, Israel (Marie Sklodowska Curie Individual Global Fellowship). His research focuses on creating practical and accessible 3D computer vision algorithms that work in real life.
Twitter: @sitzikbs, Blog: www.itzikbs.com, YouTube, LinkedIn
Taking ANU #SoMe was a transformative experience for me. Apart from social media platforms and tools discussions, the course offered me insights into little-known but many career related benefits it can offer an academic/ researcher. Most importantly, #SoMe helped me tame my own fear of Twitter and gave me a much needed push to dive deep and be a part of the opinionated Twitter world.

AchalieKumarage, PhD Candidate, @ANURegNet (Twitter handle @AchalieKumarage)
And now, dear reader, if you're already a keen social media user, feel free to…